🇱🇺 Attention businesses in Luxembourg! 🚨 Starting from March 18, 2023, the use of electronic invoicing will be mandatory for all B2G (business-to-government) transactions, regardless of the amount. 💻 This means that businesses in Luxembourg will need to adapt their invoicing processes to comply with the new legal requirements.
📝 As certified Odoo experts, Qualix's chartered accountants can help you comply with the mandatory e-invoicing regulation for B2G transactions in Luxembourg. We can help you implement Odoo's e-invoicing module, which allows businesses to generate, send, and receive electronic invoices that meet the legal requirements in Luxembourg.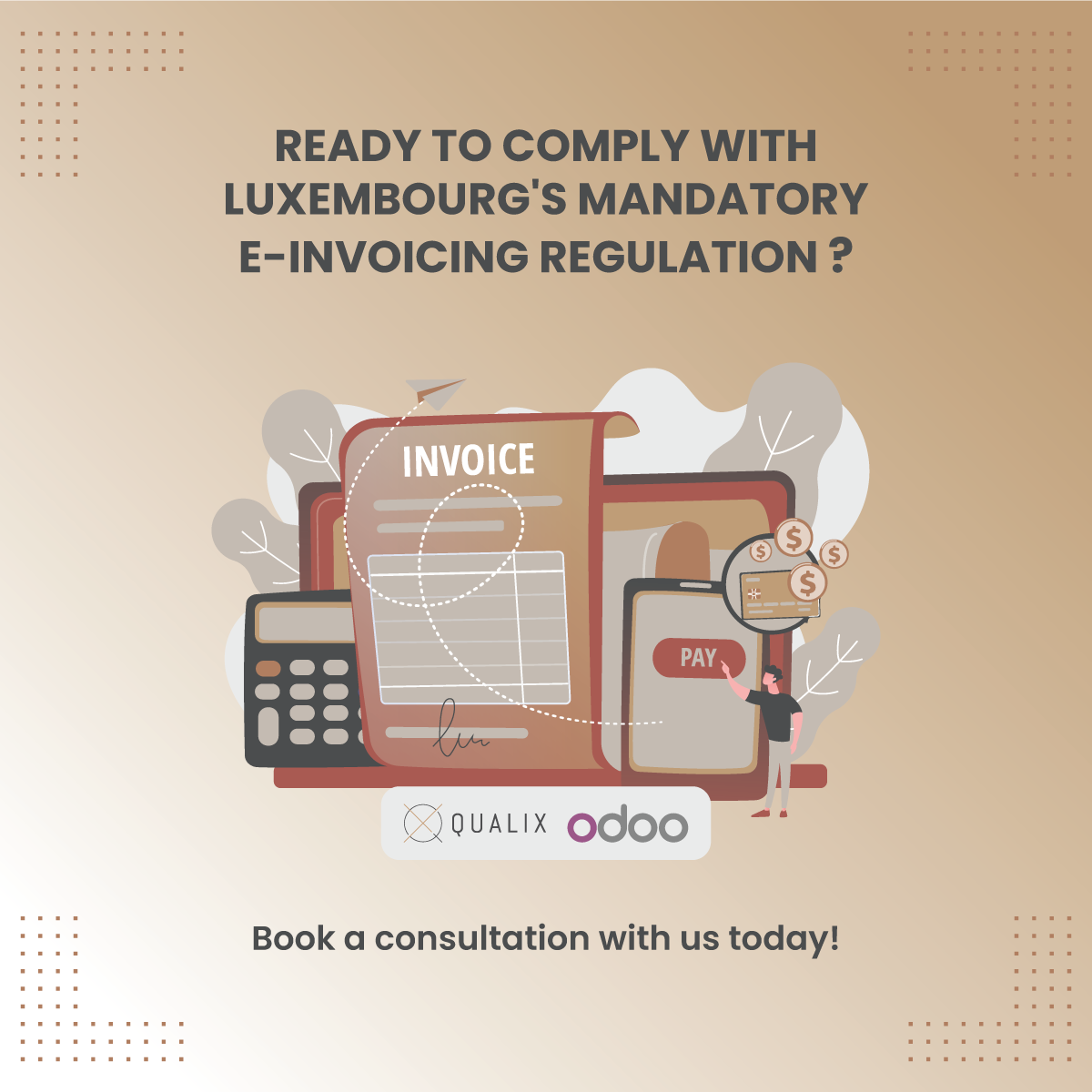 📊 The Odoo e-invoicing module enables businesses to create invoices in various formats, including XML and UBL, and send them to customers via email, online portals, or through a government-approved platform. This can save businesses time and money by reducing the need for manual data entry, paper-based invoicing, and postage costs.

💡 In addition, Odoo's e-invoicing module can help businesses track and manage their invoicing data more efficiently, which can facilitate analysis and forecasting. This can help businesses make data-driven decisions and plan for the future.

At Qualix, we understand that transitioning to e-invoicing can be a challenging task, especially for businesses that are used to traditional invoicing methods. That's why we are committed to providing customized solutions that fit the unique needs of each business we work with.

Our team of ​chartered accountants and ​certified Odoo experts will work with you to assess your current invoicing process, identify areas for improvement, and help you implement Odoo's e-invoicing module seamlessly. We will also provide training and support to ensure that your team is equipped with the necessary skills to use the new system efficiently.

💡 By automating your invoicing process with Qualix and Odoo, you can save time, reduce errors, and comply with the new legal requirements in Luxembourg. This can help you focus on growing your business and achieving your goals.

📈 Don't wait until the last minute to comply with the new regulations - book a complimentary consultation with us today to learn more about how we can help you transition to e-invoicing seamlessly and stay ahead of the game in Luxembourg's business landscape. Click here to book a consultation with one of our experts 👉 https://lnkd.in/egnPi7eB?